Visitor's Center
Schools
The Beaver Area School District is a highly regarded public school system with proven results, consistently producing superior educational opportunities for its students. "Beaver Area is a top-performing, low-spending district" (Beaver County Times). In 2015, the Pittsburgh Business Times ranked the Beaver Area High School #30 out of 121 Western-PA schools. Additionally, Dutch Ridge Elementary and College Square Elementary both received the Governor's Award for Excellence in Academics in 2015.
Students at Beaver Area High School are required to take three high-stakes Keystone exams prior to graduation. The percent of students scoring proficient or advanced (% superior) on each exam is used to determine part of the School Performance Profile (SPP) score. Beaver Area High School earned the second highest rating in 2015: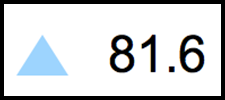 Additional Beaver Area High School Stats:
| | |
| --- | --- |
| Keystone Algebra I (% Superior)    | 87%   |
| Keystone Literature (% Superior) | 88% |
| Keystone Biology (% Superior) | 75% |
| SAT College Ready Benchmark* | 100% |
| Cohort Graduation Rate | 96% |
| PSAT Participation | 100% |
*The SAT College Ready Benchmark is the percent of high school seniors who score 1550 or higher on their SAT and/or 22 or higher on the ACT.
We encourage you to use PASchoolPerformance.org website to research and compare Beaver Area School District with all other public school districts in the Commonwealth (n=499). This School Performance website is sponsored and updated annually by the Pennsylvania Department of Education.
Beaver Area High School offers a robust Advanced Placement (AP) program as well as a College in High School program (CHS) for students seeking dual enrollment. Courses include:
AP Biology AP Calculus AP Chemistry
AP European History AP Psychology AP Spanish
AP Studio Art AP World History AP Calculus
AP US Gov't and Politics CHS Physics CHS Statistics
AP Language and Composition AP Literature and Composition
The graphic below shows Beaver Area High School's AP test scores for students scoring a 3 or higher between 2011 and 2015 as compared to the state and the world. The reader will notice that Beaver Area High School consistently outperforms state and global test-takers.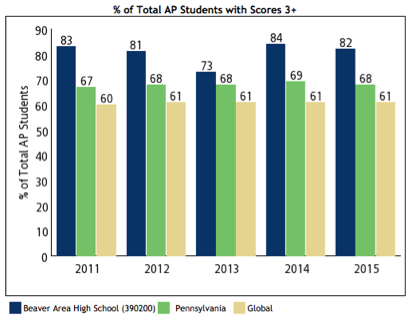 Other nearby important educational resources include: